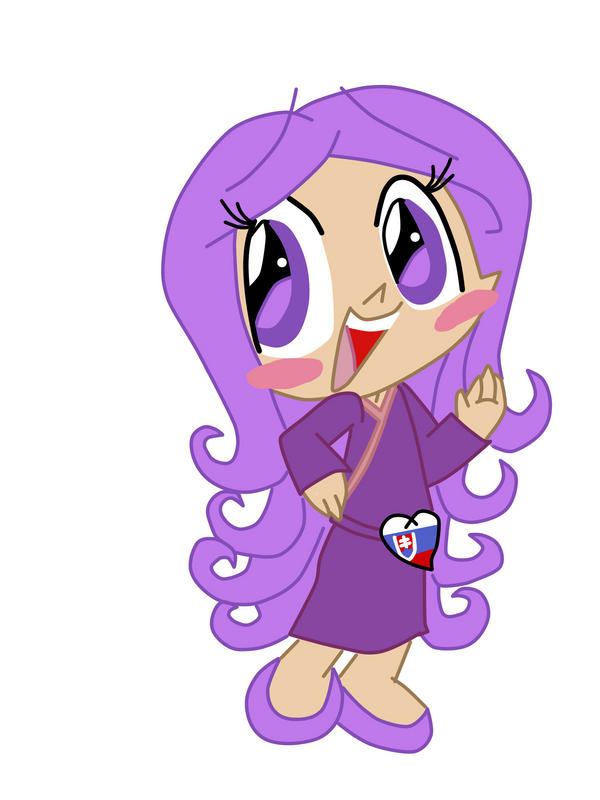 Today's Eurettefriend, despite being a little shy, proves that there's hope in every country who participates in Eurovision, even her own.
Bratislava Eurettefriend
Country that represents: Slovakia
Heartflag powers: She brings hope to people in need and she has the ability to materialize good daydreams and imaginations to help others
Birthday: September 1
Best results in Esc:  18th in 1996
Best results in Jesc: None. Bratislava didn't debut yet
Euro Motto and Favourite song:  "When forgiveness opens doors, Spread Your wings and let It soar!"- Let' tmou
Je Teší ma! I'm Bratislava Eurettefriend… and i… represent Slovakia. I'm one of those friends with big dreams and i like to share my plays… and of course, i'm a known actress in… Europolis. Being on stage makes me happy… well, too happy to describe. And my eurostars… they love me… just what i am, even when i imagine a flying unicorn and being soft-spoken.
Oh! Representing Slovakia is a pretty medium task, but somefriend… has to do this, and that friend is… me. If they see rainclouds or lose hope, i'll use my heartflag to remind them… that they can keep trying, rain or shine and bringing those hopeful feelings in Eurovision! I do this… with all of my friends countries too. Personally… i want to win Esc with my songs and hosting one of them. I will be making it… simple for me and my friends. Not too complicated for all.
I never been on Jesc…  if you ask me…  i know a little of that!
If you're in Europolis… be sure to… see my stage plays, movies and tv shows i'm in. I believe we can spend good times and the hope to see them again… in Eurovision events. It always works with my friends… and everyfriend that visit us over.. and over… again! Also… i can keep everyfriend… in good mood. Even my brother Prague Eurofriend is the 2nd challenge to me… when it comes to Eurovision… and Euromissions.
An to everyfriend in Escwebs… keep your hopes and dreams going… and don't get distracted like me. I said that… to remind me next time i'm in a semifinal.
Uvidíme sa v divadle!
Bratislava Eurettefriend